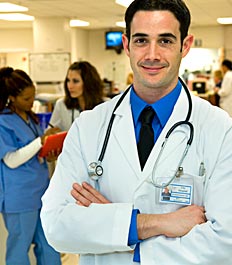 Fill out the form below to download a FREE white paper on how the use of evidence-based resources improves patient outcomes.
Why should my institution subscribe to UpToDate?
UpToDate is one of the world's most trusted clinical information resources. With more than 150 million topics viewed last year, clinicians are turning to UpToDate more than any other resource
.
Standardize care, improve outcomes
With an institutional subscription to UpToDate, all clinicians -- physicians, nurses, pharmacists, mid-levels -- have access to the program, helping to standardize care and improve overall quality within your facility.
Studies confirm consistent use of UpToDate within the hospital setting is linked to1:
Lower mortality

Shorter lengths of stay

Improved hospital quality
Access UpToDate anywhere at your facility
Clinicians can access UpToDate from multiple points.
Desktop icon

Clinical portal

Intranet homepage

Electronic medical record systems

Clinical workflow systems
To learn more, call the UpToDate Sales Team at 1-888-550-4788 ext. 625 or contact via e-mail at enterprise@uptodate.com.
1. Isaac T, Zheng J, Jha A. Use of UpToDate and outcomes in US hospitals. J Hosp Med. 2011 Nov 16. doi: 10.1002/jhm.944.